Our Veterinarians
The East State Veterinary Clinic team of skilled veterinarians welcomes you to our practice. At East State Veterinary Clinic, it is our daily privilege to provide quality vet care to your cherished pet, with compassion and competence. We hope to ensure a positive impact on our patients, pet owners and the local community.
Dr. Andrist
Degree: Purdue University: Bachelor's in Health Sciences and Doctorate's in Veterinary Medicine
Area of Specialty: Hospital Management, Preventative Medicine, Nutrition
Organizations: NEIVMA, AVMA, IVMA

Dr. Andrist is our managing doctor and helps keep the rest of us in line! Outside of work, Dr. Andrist enjoys spending time with her two wonderful daughters. She also enjoys baking and cooking, therefore she runs so she can eat! She has a black Labrador named Miss Sammy, a mutt named Archie, and a kitty named Mackey. Her favorite aspects of her job are being able to help sick animals to be well again, talking with pet parents and taking on new challenges every day. "Everyday is unique."
Dr. Clemente
Degree: Purdue University: Bachelor's degree in Animal Sciencies; 1976
University of Wyoming: Master's degree in Animal Science
Purdue University: Doctorate's in Veterinary Medicine; 1982
Area of Specialty: Canine reproduction and Internal Medicine 
Organizations: President of IVMA from 2012-2013, AVMA, NEIVMA
Dr. Clemente  is not only a veterinarian, but he is also a teacher at the Vet Tech Institute at International Business College. In his free time, he enjoys golfing, biking and spending time with his grandchildren. He has an adorable springer spaniel at home named Lola, who likes to keep him and his wife busy!  His favorite part about his job is interacting with his clients and colleagues.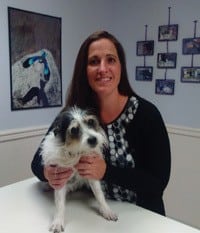 Dr. Dziak
Degree: Ohio State University: Bachelor's degree in Ecology, Evolution and Organismal Biology
Ohio State University: Doctorate's degree in Veterinary Medicine; 2004
Michigan State University: Internship in small animal medicine; 2005
Area of Specialty: Surgery
Organizations: IVMA, AVMA
In her free time, Dr. Dziak enjoys running, gardening, and quilting. Her pets at home include a Jack Russell Terrier named Abby, a golden retriever named Paige, a mini golden doodle named Chloe, and Katie Bell the cat. The thing Dr. Dziak loves most about her job is, "Our clients, patients and atmosphere at East State."