Our Veterinarians
The East State Veterinary Clinic team of skilled veterinarians welcomes you to our practice. At East State Veterinary Clinic, it is our daily privilege to provide quality vet care to your cherished pet, with compassion and competence. We hope to ensure a positive impact on our patients, pet owners and the local community.
Dr. Andrist
Degree: Purdue University: Bachelor's in Health Sciences and Doctorate's in Veterinary Medicine 
Area of Specialty:  Hospital Management, Preventative Medicine, Nutrition
Organizations: NEIVMA, AVMA, IVMA​
Dr. Andrist is a Fort Wayne native. Not only did she grow up in Fort Wayne, but also at East State Vet. Her first memories at East State are coming in with her dad, Dr Bruinsma, and watching him perform C-sections. She loved watching him and helping the new puppies take their first breath. This is where her passion for helping pets and their pet parents began. She learned how rewarding this profession can be by learning from great teachers, such as Dr. Bruinsma, Dr. Ackerman, and Dr. Clemente.
After graduating from Bishop Dwenger, she attended Purdue University. She graduated with a bachelor degree in health science and a doctorate in Veterinary Medicine.
Now, she enjoys leading the team at East State Vet, as the managing veterinarian. She enjoys surgery and keeping pets healthy through preventative medicine and nutrition. When she's not in the office, you can usually find her spending time with her husband, Jourdan, their 3 girls (Abby, Jill, and Lucy), and their pets, Archie, Mackey, and Kona. Hobbies that help her relax and de-stress include: baking yummy treats, running races, and gardening.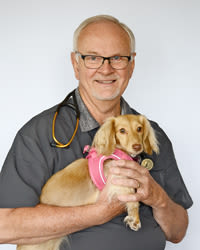 Dr. Clemente
Degree: Purdue University: Bachelor's degree in Animal Sciencies; 1976
University of Wyoming: Master's degree in Animal Science
Purdue University: Doctorate's in Veterinary Medicine; 1982
Area of Specialty: Canine reproduction and Internal Medicine 
Organizations: President of IVMA from 2012-2013, AVMA, NEIVMA
Dr. Clemente  is not only a veterinarian, but he is also a teacher at the Vet Tech Institute at International Business College. In his free time, he enjoys golfing, biking and spending time with his grandchildren. He has an adorable springer spaniel at home named Lola, who likes to keep him and his wife busy!  His favorite part about his job is interacting with his clients and colleagues.
Dr. Dziak
Degree: Ohio State University: Bachelor's degree in Ecology, Evolution and Organismal Biology
Ohio State University: Doctorate's degree in Veterinary Medicine; 2004
Michigan State University: Internship in small animal medicine; 2005
Area of Specialty: Surgery
Organizations: IVMA, AVMA
In her free time, Dr. Dziak enjoys crafting, gardening, and fitness. Her pets at home include a Jack Russell Terrier named Applejack, a Mini Golden Doodle named Chloe, a mixed breed named Lilly, and Katie Bell, the cat. What Dr. Dziak loves the most about her job is, "clients, patients, and the atmosphere at East State.""
Dr. Potts
Degrees:University of Illinois (Urbana-Champaign): Bachelor's Degree in Integrative Biology, University of Missouri (Columbia): Doctorate in Veterinary Medicine
Organization:AVMA
Dr. Kevin Potts graduated from the University of Missouri College of Veterinary Medicine after having been actively involved with many clinical cases which helped to prepare him for his career. While at Mizzou, he befriended several veterinary classmates, one of whom became his best friend and wife, Dr. Ashley Potts, another practicing veterinarian. Together they are able to discuss veterinary experiences while growing daily in their dedication to patients and the veterinary profession. Dr. Potts is thrilled to be caring for and promoting the comfort of people's best friends, their loving pets. Drs. Kevin and Ashley Potts enjoy going for walks in parks and zoos, watching movies, and musical productions, and sharing in many similar hobbies; they live with two cats, Selina and Odie, and a sheltie named Lillie.
Dr. Bowers
Dr. Bowers comes to Fort Wayne from Huntsville, AL. She received her Bachelor's degree in biology in 2012 from the University of Alabama in Huntsville and she is a 2018 graduate of Mississippi State's College of Veterinary Medicine. She has a special interest in emergency medicine and ultrasonography, as well as a love of general practice and preventive care. Dr. Bowers has 3 dogs (Lily, Pepper, and Dean) and 2 cats (Rascal and Maui) that keep her entertained in her free time. When she's not taking the dogs hiking or just enjoying some down time on the couch with the bunch, Dr. Bowers likes to travel, read, and cook. Her favorite part about being a veterinarian is caring for animals and their humans in the face of any challenge.